Mill Creek Malice a CJ Hand Novel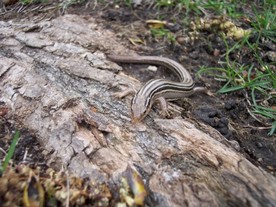 He might have turned back if CJ Hand knew he would spend the next two weeks chasing a faceless human—if that is what you could call it.

Preparing for his fall college field class, CJ finds the rare plant he seeks near a log in a land once devastated by a meteorite and agonized by glaciers. At the site, he discovers an old ammunition box and a small reptilian creature staring at him from atop the rotting log. In the dusty container, the cache consists of plant remains and a note. A poem written on the note triggers a mercurial race of matching wits with this faceless being to save two people. Teaming with his old friends, Tom Thies and Dr. Trisha Baker, he encounters twists and turns cleverly designed by an intelligent and deeply disturbed individual willing to kill. Swooping in on each new cache box, the team knows the captor, full of malice, will soon terminate the lives he controls.

The gently rolling landscape and small communities of rural northwest Iowa portray a sleepy and non-threatening environment. For the caged captors (one weak and covered with various plant dyes and the other psychologically challenged awaiting an unknown treatment) it is much different. Hate and fear of death permeate the creature's malevolent laboratory.

The perplexing geocache mystery is the antithesis of the straight roads and honest people of the region. CJ, Tom, and Trisha must face the reptilian poet's geocache game threatening to destroy life, as did the events of thousands and million years past.


---
Chapter 18 (Excerpt)

HE WOKE IN sweat-soaked clothes shortly before 2:00 p.m. The episode with Tandy only two hours earlier sapped every ounce of adrenaline. CJ stumbled from his rocker to the bathroom and stripped. He toted the sodden clothes to the laundry room and tossed them in the washer.
The shower ran cold over his head. He felt sick. His concern now included the safety of Joyce, Tandy, and their little Bichon. CJ shut off the cold water, dried himself, and padded to the bedroom. He dressed in jeans, a brick-red canvas shirt, and his favorite walking shoes. His head much clearer, he focused on finding Becca in the next three days, the impetus being a desire to piss off Dr. Death and his holier-than-thou attitude.
The cell phone was right where he tossed it. The front door had been left wide open. CJ snatched the rectangular black phone and checked for calls and messages, none. He quickly scrambled next door. His heart ached when he spotted Joyce seated on the couch holding Muffy. She motioned him to come in, a finger to her lips for quiet.
Muffy wiggled off Joyce's lap and leaped into CJ's open arms. "Where's Tandy," he whispered. Joyce pointed to the back bedroom.
"CJ what's happening?" tears filled her eyes. "I'm so confused, who wants to hurt my little girl?"
"It's something to do with Becca." He sat beside her, Muffy nestled into his lap. "Is Tandy okay?"
"Yes. She's embarrassed because she wet her pants." Joyce unconsciously reached out and ran her fingers over Muffy. "I just don't understand why would anyone pick on Tandy and Muffy?"
"I can't answer that. I wish I could." Muffy wiggled out of his lap and nuzzled over to Joyce. "I want you to stay close to Paul and Sue over the next three days."
"Why?"
"If this person, or thing, is to be reckoned with it will be in the next two to three days." He closely studied her face. "Okay?"
"Yes, what about Tandy on Monday?"
"I'll talk to the Witherstons. Paul is the right person to stay close to Tandy. I know he'll be glad to help out."
"Is Becca alive?"
CJ shrugged. "We hope so, but we're under a time constraint…that's why I said Monday…maybe Tuesday at the latest."
A sniffle came from the hallway. Tandy stood watching the two, a smile crept across her face, "Seeja, you come to see mommy?"
"I did Tandy." He held out his arms.
Tandy charged down the hall with her large Teddy bear held tightly against her small frame. "Do you like Mr. Bear, Seeja," she said as she nestled into his arms.
"I do, very much. His name is Mr. Bear?"
"Yes. Mommy is Seeja going to stay overnight?"
Joyce smiled, "Not tonight, maybe some other time."
With a warm hug, CJ rose and placed Tandy and Mr. Bear on the couch beside Joyce and Muffy. He took in the small family he strongly cared for. "I'll talk to Paul and Sue. If there's a problem we'll adjust."


Mill Creek Malice
is available from Amazon as an e-book or paperback by clicking on the above book images or the title directly above. The paperback edition can be purchased at: The Well Read Book Store, 706 W 2nd, Hastings, NE 68901 or by e-mailing the autor for a signed copy.